New life in Christ and his Church
This last week I had a renewed sense of hope. Maybe it's that when I wake up in the morning, it's a little bit lighter. Maybe it's that we finally have some sunny weather. As a native Northwesterner, the rain doesn't usually bother me…but this year it has been a bit much. I'm loving the return of the sun! It might be the flowers that are sprouting throughout our yard. With our move last year each season has been a landscaping surprise. There is a newness in the air, and I am here for it!
We got to see that newness last week in our church services, too. Last week we celebrated new members joining the church and baptisms. It was such a celebration of new life in Jesus. If you weren't there for it, I hope you are here this weekend to hear a recap in the services. I know that you will be encouraged!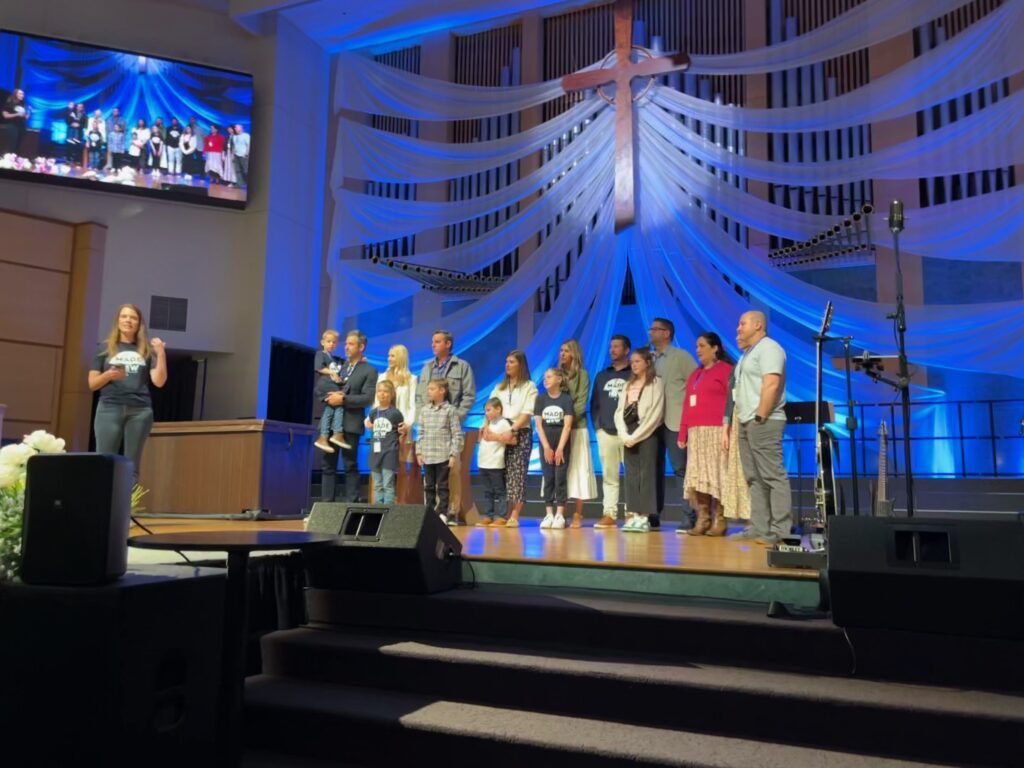 There are moments in life as a pastor that feel like a holy privilege and responsibility. This weekend was one of those moments. Seeing people who originally came back to the Wood Wall as first-time guests or came to faith through Alpha commit to being a part of the community here at Chapel Hill in membership was so special. And knowing the stories of the families that came forward for baptism filled my cup right up to overflowing. What a gift to be a part of that moment!
This whole week I have been reflecting on baptism. It is such a special moment, but for an outsider, it can seem a little strange. In the Presbyterian church, we view baptism as a sacrament along with communion. Anyone who comes to faith in Jesus and hasn't been baptized before should be baptized. There is nothing special or holy about the water, or even the method of baptism (immersion or sprinkling/pouring). We see baptism as a sign and seal of our cleansing from sin and ingrafting to Christ. It is a visible act for the person being baptized, and it is also sign of God's covenant promise of grace. That is why we also baptize the children and infants of parent's professing faith, because we believe this covenant promise of grace includes the entire family. If you want to read more about the EPC's view on baptism, you can read about it in the Westminster Confession of Faith, chapters 27 and 28 (the PDFs for two those chapters are here; you can also read the entire Westminster Confession of Faith here).
That promise of God's grace that we see proclaimed in baptism is the real reason that I had renewed hope this week. In fact, even the spring weather is a reminder that our God is a grace giving God. At the very end of the Bible, in Revelation 21:5, Jesus proclaims: "Behold, I am making all things new." The new members, the new baptisms, the new flowers popping up in my front yard—all these things are a reminder of the newness that we have in Christ. Through Christ, God is reconciling the world to himself. Through Christ, God is making all things new. As you feel the warmth of the sun this weekend (and hopefully the weather sticks around), I hope that you are reminded that God is making us new!
Pastor Julie
---
Welcome to the family
We congratulate and welcome those who were received as new Chapel Hill members, as well as those who were baptized on Sunday, April 23. They were:

NEW MEMBERS:
Maria Bellarts
Becky Bentson
Jeff & Tricia Endsley
Tyler Howe
Lori Clark & John Jensen
Michael & Carolyn King
Adam & Laura Krumwiede
Dale Megown
Zach & Laura Stansfield
BAPTIZED INDIVIDUALS:
Mikaela Blocher
Lucy Bradford
Eden Endsley
Braylon Fukuji
Zak Hallam
Tyler Howe
Alyssa King
Crew Krumwiede
Jett Krumwiede
Wyatt McCurry
Ellanor Nimrick
David Petrik
Tate Reeves